Plastic Jersey Barriers: The Economical Alternative to Concrete Barriers
Many Sizes, Shapes and Colors to Choose From Depending on Your Use Case Scenario
Featured Popular Plastic Jersey Barriers
Some of the Lowest Prices in the Industry!
YODOCK 32″H x 72″L Plastic Jersey Barrier with Chain Link Fence Topper Kit
What Are the Benefits of Plastic Jersey Barriers?
〉 Enhanced Safety: Prevents collisions, controls traffic flow, ensures road safety
〉 Quick Install: Lightweight, easy transport, rapid setup, adaptable to changing needs
〉 Durable: Resistant to weather and UV, long-lasting, low maintenance costs
〉 Custom Visibility: Reflective options, color choices, improves night-time awareness
Water-filled Plastic Jersey Barriers are used on roads and highways, as well as construction areas, water and sewer projects, and in cases of natural disaster. For short-term needs, they are an economical alternative to concrete highway barriers. They can be used to redirect traffic or pedestrians and to clearly establish crosswalks, loading zones or construction areas. Once in place, these barriers are filled with water (or sand) for stability.  Each barrier features a 6-inch fill hole at the top, and a 2-inch drain hole at the bottom.
Common applications for plastic jersey barriers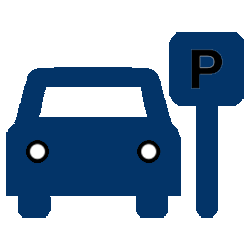 Frequently Asked Questions About Plastic Jersey Barriers
How do I determine which size plastic jersey barrier will work best?
The most popular size plastic jersey barriers are the 42″ x 24″ x 72″ and the 32″ x 18″ x 72″ models, in the orange color. However, they may not best suit your needs. You must consider several factors:
What are you using the waterwall barriers for? Channeling traffic through a construction area? Setting up a barricade to protect buildings, vehicles, or pedestrians? Denying access to a particular area? Delineating boundaries? Controlling flooding? Do you need greater or lesser overhead visibility? Is the jersey barrier going to be installed in a permanent or temporary location?

Determine the width. We have different lengths of barriers, which size will be best for the area you need? Not sure? You can talk to our product specialist who can help!

Next decide on the height. If you want to deny access, the 54″ height would be best; it's hard for people to climb over. If you're channeling traffic, you might prefer the shorter 42″ barrier or the 46″ barrier which enables people to see over the barrier. If you want the maximum overhead visibility, the short model may be best.
Our knowledgeable product specialists are happy to ensure you are ordering the right size for your application. They can answer all your questions to help you select the best suited jersey barriers. 
Simply call 888-270-3636 Monday through Friday, between 8 am and 6 pm Eastern Standard Time or see our product line card.
Which works better; sand or water filled plastic jersey barriers?
This all depends on the use or application. If you plan to use the barriers more permanently, then we recommend you use sand to reinforce the jersey barriers. For temporary use, fill with water.
How do you prevent plastic jersey barriers from freezing?
The most preferred method during the wintry months is to only fill the water 10" from the top of the jersey barrier. This allows room for expansion as the water freezes. 
Another way is to use calcium chloride.
Calcium chloride is an effective deicing chemical that is often used on roads and highways in winter conditions.
Because calcium chloride will readily dissolve in water, even at very low temperatures, it is very effective at lowering the freezing point of water.  When temperatures approach the freezing level, to keep water from freezing, it is recommended that roughly 12 pounds (or 1.5 gallons) be added to the water in each water-filled barrier.
Because you fill the barriers with water, won't water leak out?
Our jersey barriers are rotation-molded to a uniform thickness. This thick plastic is not easily punctured. It is sturdy enough to withstand normal wear and abuse. 
Where are plastic jersey barriers used?
Plastic Jersey barriers are a common sight on highways, where they often serve as a median barrier, or as a wall to block off closed lanes.  But these water-filled barriers are also used in numerous other settings.
Because they can be set up and moved without the use of heavy equipment, Plastic Jersey barriers are easy to set up around construction sites and temporary work zones.  They will protect workers, and keep vehicles and pedestrians physically blocked from no-access zones.
Many airports also use Plastic Jersey barriers to identify closed runways, create taxi lanes, and keep vehicles away from construction zones.  A special low-profile barrier model has recently been introduced, to act as a visual border at airports.
Plastic Jersey barriers can also be mobilized to provide security in severe weather conditions (such as hurricanes or floods) and in emergency situations such as security threats where they can block vehicles from trespassing into a site.
Due to their ability to withstand high-speed vehicle impact and prevent automobiles from jumping over them, Plastic Jersey barriers are often also used at speedways and racetracks, especially sites that serve as temporary or non-permanent race tracks. 
The 42" x 24" x 72" plastic jersey barrier is available in both a 100 pound and a 170-pound model. What is the difference between them?
The only difference between these jerseys are that the 170-pound model is made of thicker plastic. This makes the filled weight heavier.
How do I unload plastic jersey barriers?
This will depend on the quantity and size of the barriers you order. 
Most of the jersey barriers are light enough to be lifted off the truck by one or two people. Even the largest barrier is portable and can often be carrier by two people. 
The number of jersey barriers ordered will determine the way they are shipped: loose or on a pallet. For example, two or three barriers would most likely be shipped loose. Larger orders must be banded to pallets. If you have a forklift at your location, you can easily unload each pallet. If you don't have a forklift, you will need to un-band them, and manually lift them off the pallet one-by-one. 
What is the difference between a plastic and concrete jersey barrier?
For long-term projects on major roadways (such as interstate highways or turnpikes), for which miles and miles of barriers are needed, concrete barriers are the most common choice.
However, many small jobs or short-term projects can't justify the cost of concrete. In these situations, choosing the Plastic Jersey option can result in time and cost savings, because the barriers can be moved with relative ease.
Unlike concrete barriers, Plastic Jersey Barriers are also reusable in several different circumstances. The fact that they can be used for traffic control on roads, as well as in construction zones or water and sewer projects, can enable an entity to reduce their capital expenditures by purchasing Plastic Jersey barriers.  
Plastic Jersey barriers are also frequently used at special events for security, as well as at airports and garages, for the purpose of access denial.
Why Discount Directionals?
Since 1988, we have been the original wholesaler of premium quality crowd control barriers, belt stanchions and line queuing products at discount prices. This includes water-fillable, highway Plastic Jersey Barriers.
Have a question? Call us at 888.270.3636
Accessories You May Need
| | | | | |
| --- | --- | --- | --- | --- |
| | | | | |
| | | | | |
| | | | | |
Which Plastic Jersey Barricade Is Right For You?
Use this handy Plastic Jersey Barrier Buying Guide to help you decide which of our high-quality products is best for your application. Still have questions? Call 888-270-3636.
airport style jersey barriers
24″H x 96″L
These low-profile (24 inches in height) yet long (92 inches in length) water barriers is frequently used to temporarily block off closed areas of parking lots or streets.  We offer these interlocking jersey barriers in several high-visiblity colors.
Standard Size Jersey Barriers
42″H x 72″L
This standard-height (42 inches tall), water-fillable plastic jersey barrier can be used as a highway barrier, or to block off areas in work zones or construction zones. Available in seven colors, these barriers provide high visibility.
Parking Lot Style Jersey Barriers
32″H x 72″L
Ideal for blocking off temporary "no access" work zones on roads or in parking lots and available in seven colors (custom colors also available). Weights between 85-140 pounds.
Mobilecade Barrier
Compact Portable Plastic Barricade
Tall Plastic Barrier
54″ Tall for Extra Protection
Wedge Barrier
Ideal for Securing Pedestrian Walkways
Wall Barrier
Stackable Barricades for Blocking Access